**Update**
Thank you to everyone who came out to support Aid for Friends in our 5th Annual Splish & Splash! It was a record-breaking year both in terms of attendance and fundraising. We had over 300 attend, and raised just over $8000! This event is so important, because charitable giving is typically at its lowest in the middle of the year. This will give the shelter a much-needed boost through the end of the year, until our next big fundraiser in December, the 11th Annual Homeless Encampment.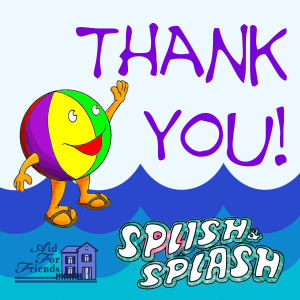 August 4, 2017
Save the date for a family fun event to raise money for our local homeless shelter, Aid For Friends. Join our event page on Facebook for up-to-the-minute updates!
Tickets
Tickets are now only available at the event – we can accept cash or credit/debit cards. Admission includes full use of the swimming pool and big slide, a barbecue-style dinner, and music provided by a professional DJ. We will have exclusive use of Ross Park Swimming Pool that night!
Please invite your friends and family for a family fun night.
This year, we are offering a general raffle, as well as a special art raffle! You can purchase tickets at the Administration Office, at the event, or you can pay online using one of the links below. We will enter your name and contact info on each ticket purchased, and notify you if you have won! You do not need to be present to win, but will be responsible for picking up your prize from the Administration Office. We cannot ship or deliver prizes.
General Raffle
View some of the prizes on the flyer below.
Tickets are no longer available for this event.
Special Art Raffle
View the items available for the art raffle below. Because of the unique nature of each item, they will be raffled off separately. When you purchase tickets, you will specify which item(s) you would like to have a chance to win.
Tickets are no longer available for this event.