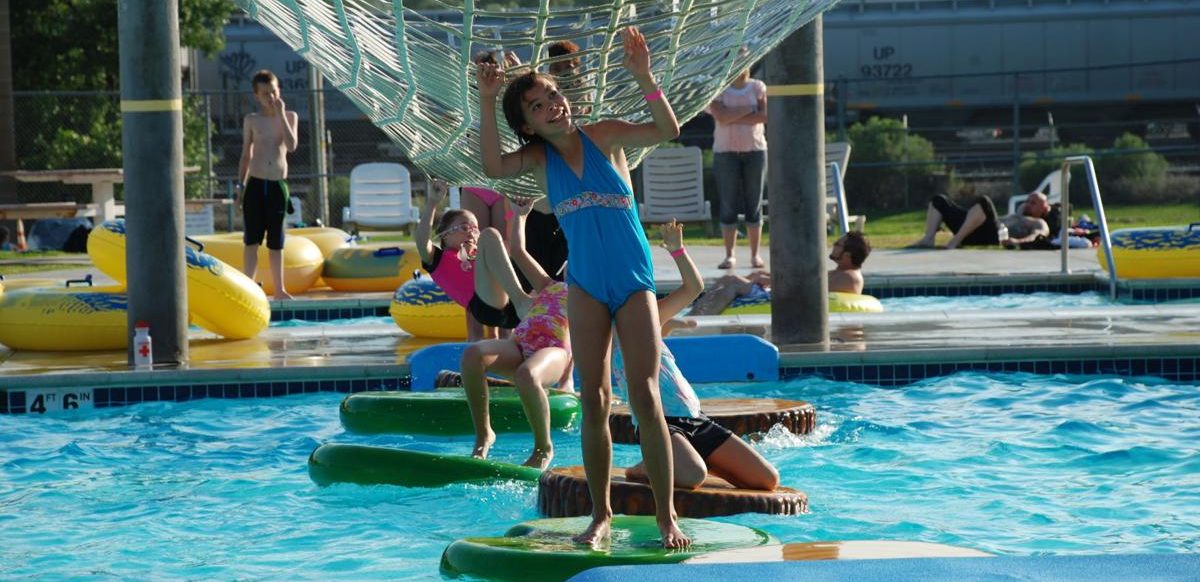 Join us on the the Aid For Friends Inc. 1984 Facebook page as we broadcast live for the raffle drawing on Friday, August 12th @ 12:00 pm MST! Click here to learn more about this year's Splish & Splash event.
Raffle tickets may be purchased in person at the Aid For Friends Administrative Office, 214 E Center St. Suite 50, or here on this page via Paypal (using a Paypal account OR any major credit card – no account required). Tickets are $1 each, or $5 for 6 tickets, and you can enter to win only certain items, or you can purchase a special 20-Ticket Bundle for $15. For each bundle you purchase, your name will be entered one time for each raffle item! It's a quick and easy way to support our raffle!
*Raffle limited to residents of the state of Idaho. Winners will be notified via phone and will be required to pick up their prize from the office in Pocatello within 10 business days, by Friday, August 26. Prizes cannot be shipped.
---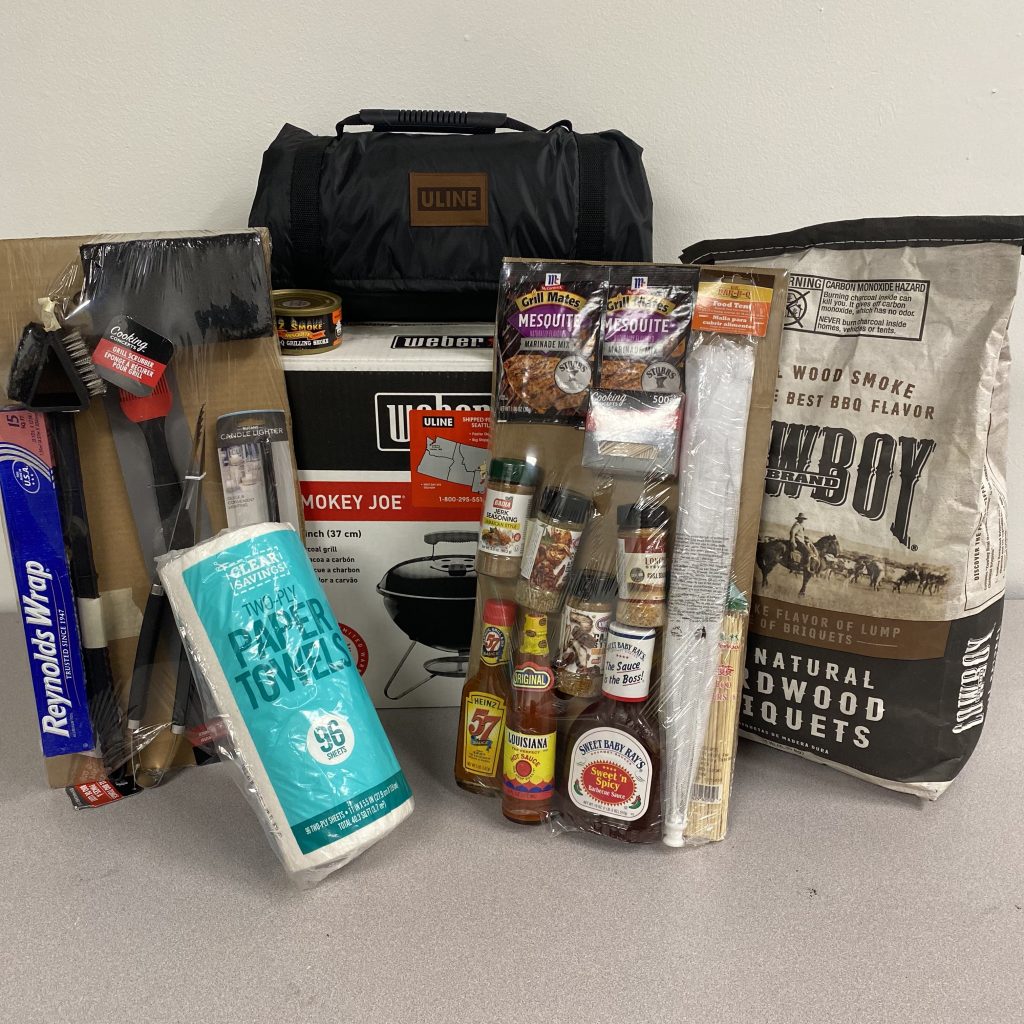 Grilling Essentials
If you can't beat the heat this summer, use it to make dinner! This Grilling Essentials Basket comes with a 14″ charcoal grill, hardwood briquets and grilling smoke, spice/seasoning/sauce pack, grilling tools set, and an outdoor picnic blanket.
Pocatello Staycation
Gas prices are up, but don't let that stop you from enjoying a little vacation… at home! This Pocatello Staycation package includes a $100 gift card to Jaker's Bar and Grill, 1 night's stay at Townplace Suites by Marriott, and a platter and goblets.
Taco Tuesday
Any night can be Taco Tuesday if you win this package! Includes a taco pinata, taco holders and taco tray, serving bowl, taco seasoning and salsa, non-alcoholic margarita mix, chili pepper towel, table cloth, lights, and napkins, and a "Holy Guacamole" decoration.
Lotto Ticket Basket
Feeling… a little lucky? This Lotto Ticket Basket contains over $50 dollars worth of scratch tickets!
Sunbeam Power Failure Night Light
Never be in the dark with this set of two Sunbeam 16 LED Power Failure Night Lights. Keep them plugged into the wall and they function as night lights. If the power goes out, they switch to backup power and stay lit, providing quick and easy access to light! Then, remove them from their docks to use them as flashlights so you can light your way back to bed, because there's no sense in trying to get any work or chores done while the power is out. Sweet dreams!
Popcorn Package
The perfect gift for that popcorn superfan in your life, this package contains a Whirley Pop stovetop popcorn maker, popcorn and seasoning, a popcorn bucket with 2 additional single serving size cups, "Pop for Sight Words" game, and a plush GUND Popcorn Chatter toy.
George Foreman/Toastmaster Set
Breakfast, lunch AND dinner are ready with this George Foreman 3-in-1 set. Get George Foreman's Super Champ Lean, Mean, Fat-Reducing Grilling Machine with bun warmer, alongside a Toastmaster 2-slice cool-touch toaster and a Toastmaster 10-cup coffee machine!
Home Improvement Basket
Get started on that "honey-do" list with this Home Improvement basket, which includes a $25 gift card to Lowe's, a $25 gift card to Home Depot, and $40 to Tractor Supply Co.!
Romantic Staycation
Treat your partner to a romantic getaway… in Pocatello, Idaho! Stay one night* at the Black Swan Inn, and while you are there, take a stroll down to Oliver's for dinner using your $25 dollar gift card. Also included are a fiber-optic light-up rose, mug, and a photo frame, so don't forget to snap a picture together!
*Black Swan Inn one night's stay is only valid Monday through Thursday, for rooms of a maximum value of $209 (taxes to be paid by recipient at check-in; winner can choose to pay the difference to upgrade to a higher value room; cannot upgrade for use on a Friday/Saturday/Sunday night stay)
Doggone Wild Basket
Spend some quality time with man's best friend, with a little help from this Doggone Wild Basket. This includes a variety of toys and treats with a durable rope basket to store them in, non-skid water and food bowls, and $50 to Petsmart so you can pamper your dog in a way that is just right for them.
Cat's Meow Basket
Treat your cat like the royalty they are with this "Cat's Meow" Basket full of goodies for your cat AND you! For your cat, there is a treat jar, catnip, 2 unique mushroom scratching posts, mice and fish toys, and a cat wand to provide hours of entertainment. And for the owner, read up on coping with cat life in the book "How to Live with a Neurotic Cat," and on the basic care of cats in "Cat Owner's Home Veterinary Handbook." Also included are a hand towel, a "Meow" sign, cat blanket, and cat bed.
Sparkle Basket
Dazzle the kids in your life, or the kids at heart, with the Sparkle Basket! This basket includes a Ty-brand sequined owl, sparkle doll with 5 outfits and wardrobe case, 3 sequined slap bracelets, a Magic Sequin pouch, a sequined storage bin, and sequined throw pillow.
Glass Fish Decoration
A perfect conversation starter for the cabin or simply for the wall of someone who would always "Rather Be Fishin'," this one-of-a-kind glass fish was created by local glass artist Melissa Neiers. Complete with a leather strap for hanging on the wall or over a window to catch the sunlight and light up your room.
Mini Road Trip
With today's gas prices, a trip to Idaho Falls certainly falls under the category of "road trip!" Do a little shopping at Target with this $20 gift card and then pop over to the Outback Steakhouse to use your $25 gift card for lunch. while you're there, maybe take a stroll around the Greenbelt or just stop to see the Falls, and then head on back to Home Sweet Home.
Picnic Basket
Make your next lunch a picnic with this durable wicker picnic basket, coordinating reusable plates and mugs, and classic red checkered tablecloth. Also included are two large reusable tumblers with straws and handles, a tin of red, white, and blue popcorn, hand sanitizer and wet wipes, and some disposable plates and napkins if washing dishes after a picnic isn't really your vibe.
Fred Meyer Gift Cards
Honestly, isn't it worth buying tickets for this item just for the chance to win the mini shopping cart? I sure think so, but in case you need more convincing, those are 2-$50 gift cards to Fred Meyer ($100 total) sitting inside the cart. Don't let this one get away. And don't forget to always return your cart to the cart corral. Except this one. Put this one on display somewhere, or use it for your Barbies or LOL Surprise dolls or whatever the kids are playing with these days.
Summer Fun Basket
This Summer Fun Basket is perfect for the kids and the kids at heart. First, protect yourself from the sun with sunglasses and sunscreen. Then, make some memories with a McDonald's Fry pool float, beach ball, sidewalk chalk, bubbles, and loads of chewing gum! And finally, cool down with a unique ice cream kit, complete with ceramic ice cream cone-shaped serving dishes and ceramic-handled spoons, an ice cream scooper, chocolate syrup and sprinkles. Don't forget the napkins and hand sanitizer for cleanup!
Pioneer Woman Basket
Whether you're a massive fan of "The Pioneer Woman" Ree Drummond, a casual viewer, or you have no idea what I'm talking about and just like the look of this gorgeous kitchen set, this basket is perfect for you. It comes with a 10″x17″ ceramic rectangle dish, ceramic bowl and ceramic pitcher, a set of measuring cups and spoons, 3 magnetic clips, a squeeze bottle, rubber bowl scraper, and a tin of red apple + fir wax melts. Throw on one of the two XXL 3/4-sleeve tops that are also included in the basket, and all of a sudden… Move over, Ree Drummond, there's a new Pioneer Woman in town!
Gift Card Wreath
This wreath is decorated with a variety of gift cards. $20 to Netflix, $15 to Starbucks and $15 to local favorite Mocha Madness, $20 to Panera (also good at Cheesecake Factory, Cracker Barrel, and Red Lobster), $20 to Chipotle, and $15 to Dunkin Donuts. Sure, you may not end up using every single one of these, but did I just hear someone say, "gift for your friend whose birthday you totally spaced last week"?! And—BONUS—once you've used up or gifted all the cards, you've got a little blue and yellow wreath left to bring some cheer to your front door.
Art and Jewelry
Local artist Jade Nelson (https://www.instagram.com/outliersart/) has created a pair of handmade leather earrings, a woodburned pendant necklace and blank greeting card created from her charcoal drawing of a horse. Also included is a gorgeous dreamcatcher with navy blue tassels hanging down from the bottom created by local artist Sarah Zolman. This dreamcatcher is sure to add a unique touch to your home! Don't miss your chance to bring home this one-of-a-kind set.